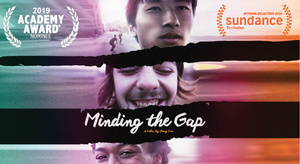 Writing Truth: What Screenwriters Can Learn from Documentaries
A common adage of certain true stories is, "You couldn't make this stuff up." But in screenwriting, ideally, your stories should feel as true as real life. And real life, as the greatest documentaries often show, is complicated.
Let's look at some examples from recent outstanding documentaries. Bing Lui's documentary MINDING THE GAP was recently nominated for Best Documentary Feature for the 91st Academy Awards.   
On the surface, it seems like a documentary about a bunch of skater kids. The film gradually morphs into a treatise on domestic abuse. And those skater kids? They are either victims of that abuse or, in the film's most troubling moments, practitioners of it.
Consider this from a screenplay/fiction perspective. Imagine a screenplay where we meet a bunch of young skater kids, who pal around and skateboard together all the time. Even if you were writing a drama about domestic abuse incorporating these characters, they would just be the victims.
The film's triumph is in showing us how one of the skaters may also have abused his girlfriend. It paints a picture of this person as first a fiercely loyal friend, and then a partner in a volatile relationship, and then the abuser in that relationship.
MINDING THE GAP is not about villainizing anyone, it's about understanding the complexities of people. In a heartbreaking scene, Bing Liu discusses his own abuse, suffered at the hands of his stepfather. He discusses it with his mother, who was not able to stop the abuse. These are complex people who have deeply contradictory elements to their personas.
In RBG, a portion of the film shows Ruth Bader Ginsberg's physical fitness routine. She's 85 years old. In a fictional script, how many 85-year-olds are going to be working out with their personal trainer?
In HBO'S ANDRE THE GIANT documentary, we learn how Andre, a literal giant, was in such horrible pain most of the time that he was very fragile. Andre's gentle giant persona is also complicated by the revelation of his estranged daughter, whom he apparently had limited contact with.
Another HBO documentary, SOUTHERN RITES, concerns a white man who shot and killed a black youth. The documentary reveals that this older white man has an adopted black daughter. That's a complication that is not easy to predict.
The common factor amongst all these great documentaries is that they show us humanity in all its contradiction and messiness. All the "characters" in these films exhibit confounding combinations of traits that are tough to reconcile. That's how people are in real life. Endeavoring to apply that ethos to your screenwriting can make fictional stories feel more "real" as well.
How do you find truth in your screenwriting?
---