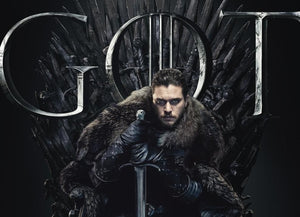 Write Something They Won't Make: Ironic Lessons from GAME OF THRONES
Writing in the hopes of your script getting produced can be, counterintuitively, limiting. Setting limits on your imagination before the script has gone into production may seem pragmatic and business-minded, but it can also weaken the final product.
This is the ironic lesson to draw from GAME OF THRONES. In an interview with the New York Times before the show came out, George RR Martin explained the genesis of his epic fantasy series – he was a frustrated TV writer.
"To some extent, the project was also a reaction to my own Hollywood career. I was out there for 10 years, from roughly 1985 to 1995. I was on staff on "The Twilight Zone" and "Beauty and the Beast" as a writer-producer, and then I did about five years of development, doing pilots for shows of my own and some feature film scripts. The theme of that whole period for me was, I would always turn in my first draft to whatever network or studio or producer I was working for and the reaction was inevitably, 'George, this is great. It's terrific, it's a wonderful read, thanks. But we can't possible make it.'"
George goes on to note, "Of course the irony of all this is the project that I thought most unlikely to ever be filmed – that project that was actually unfilmable – is now going to be this big show on HBO."
Considering the origin of the book series, a lot of creative decisions in the book/TV series make more sense. But if you took a step back and considered the choices of the show in isolation, any one of them might seem crippling on a business/commerce level.
MAJOR SPOILERS BELOW – don't keep reading if you haven't seen the entire show.
Choices like:
-Killing your seeming protagonist, Ned Stark (Sean Bean).
-Depicting an incestuous romance between two of the main characters.
-Having a very young girl (Arya) become an assassin.
-Burning a young girl at the stake (in fact children are burned to death in several instances in the show).
-Having such a massive cast.
-Requiring such a massive budget.
-Arguably mixing genres, with the zombie-ish White Walkers in a fantasy genre.
-Castrating one of the main characters (Theon).
Because George specifically set out to write something that could never be made, he went for broke creatively, taking huge swings. That creative freedom led to a compelling piece of material. And compelling pieces of material, in the end, always win out.
Don't set limits on your work in the hopes of making it more commercial, and ironically, you may wind up with something more, not less, likely to be produced.
Do you take huge swings with your writing?
---
2 comments