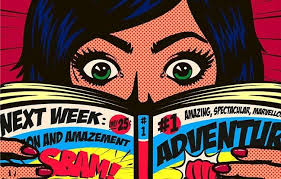 Turn Your Screenplay Into A Graphic Novel: A How-To Guide
Want to turn your screenplay into a graphic novel? Doing so has become appealing for screenwriters tired of getting the feedback that their original work is not based on pre-existing intellectual property. Turning your screenplay into a graphic novel is a way to create your own intellectual property (IP).
But how can an outsider to the comic book industry create their own graphic novel? It turns out, as comics have increasingly moved into the digital space, this process has become democratized, and a bit more accessible.
Many comic book companies still accept unsolicited submissions. The caveat, though, is those submissions often must include at least six consecutive pages of sequential art. That's the case with Dark Horse Comics, a big comic book company.
Much like in film, where people sometimes produce a short film as a proof-of-concept for their feature film, in the comic book world producing those sample pages functions as a proof of concept. Image Comics, another big comic book company, asks for at least 5 consecutive pages of sequential art in submissions. Behind these two big companies, another dozen plus mid-level companies take open submissions of some kind (this changes all the time, so a bit of internet research is suggested before submitting).
Now, let's say you want to produce those six pages of sequential art. How do you do it? Well, first, you need an artist. Some artists are one-stop-shops, and can do line art, color, lettering and even a cover. That's the budget approach.
But for top quality, ideally, you'd hire separate professionals for each of these roles (pencil, ink, lettering, cover). Again, on a budget, each of these artists can likely be found for a couple hundred bucks per page or less, but to put your best foot forward you may want to land on the high end of that range to get quality artists (bonus points if they've already worked on produced comics with some of the main companies in the space).
Where can you find these artists? There are different online forums (including a Facebook group, Connecting Comic Book Writers And Artists, which has 29 thousand members). But generally, if you're an avid reader of comics, you can simply look up online your favorite artists and find their contact info.
Adapting your screenplay into a comic book or graphic novel script is akin to directing it as a film, you get to be super-specific about how you want the visuals to appear, and how the characters get presented.
Once your six-page proof-of-concept sequential art (often the first six pages of the comic book) is done, you can submit to the comic book companies, and failing that, use that art as part of a Kickstarter or other crowd-funding campaign (there's a long history of comic book creators doing this successfully). If you can fund a complete first issue, or even a complete graphic novel, you can submit it directly to the digital comic book platform Comixology, where it will appear alongside the big comic book titles (Comixology is to comic books what Amazon Prime is to independent films). The long game is then to option this source material for TV/film adaptation.
Taking this path can be daunting, but it's a great way to create your own IP.
---
1 comment