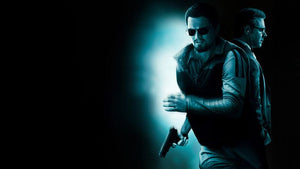 Our Favorite Screenwriters: William Monahan (THE DEPARTED)
William Monahan bust onto the scene as a screenwriter in the mid 2000s, writing KINGDOM OF HEAVEN for Ridley Scott and then winning the Oscar for Best Adapted Screenplay for Martin Scorsese's THE DEPARTED. He has since written the Mel Gibson film EDGE OF DARKNESS, The Leonardo DiCaprio film BODY OF LIES, LONDON BOULEVARD with Colin Farrell, and THE GAMBLER with Mark Wahlberg. How did he get there?
As with other screenwriters in this series of articles, Monahan would probably contest the notion that he suddenly appeared on the scene in the mid 2000s. In fact, his experience as a writer goes back decades. Monahan has written prize-winning short stories, worked for magazines (surprisingly one of these was Maxim Magazine, not exactly the type of content we now associate with Monahan), and it was ultimately his work as a novelist that led to his screenwriting career.
In an interview with the WGA West, Monahan admits he spent the early part of his career figuring out what he wanted to be. As far as screenwriting goes, Monahan notes that it's challenging because, "you have to have some depth of ability and ideation. Your ninth idea has to be as good or better than your first, and that's where a lot of people crack up. You have to remain on top of your game and in absolute control of the text and a successful advocate of your own intentions no matter what influences hit the picture or from which direction."
Monahan also notes in this same interview a surprise, which aligns him with Taylor Sheridan (another writer chronicled in this series of articles). Sheridan is determined to do things his way, even if that way is not conventional. Monahan is the same, explaining, "The main thing I never expected in film is that, if you stick to your own model of work, instead of caving in to industry expectations, you will in fact be able to write your own ticket."
Looking at Monahan's produced work, some commonalities show through. In THE DEPARTED, a corrupt system poisons everyone. The same is true of BODY OF LIES. Monahan's certainly a thinking-man's screenwriter, and in films like THE GAMBLER (which features references to French existentialist literature), THE DEPARTED (in which DiCaprio's character quotes Hawthorne, leading Mark Wahlberg's character to mock him) and KINGDOM OF HEAVEN (which juggles multiple religions, factions, and mountains of historical facts) his intellectual streak shows through.
But Monahan's intellectualism is always balanced with a sort of fiery anger. In THE DEPARTED, everyone is angry and shouting and at times darkly funny. In BODY OF LIES, Russell Crowe pushes Leonardo DiCaprio's character to a breaking point. The brooding degenerate gambler played by Mark Wahlberg in THE GAMBLER is angry. There's a potent emotional life to Monahan's characters that counterbalances their sometimes lofty intellectualism. And this combination is part of what makes Monahan's work distinctive. 
How is your writing a distinctive representation of your experiences? As with Taylor Sheridan, Monahan has consistently had massive stars populate his films (the ensemble cast of THE DEPARTED is unbelievable, for example), what are you putting on the page to bring stars to your scripts? What lessons can you take away from Monahan's career for your own writing?
---
2 comments