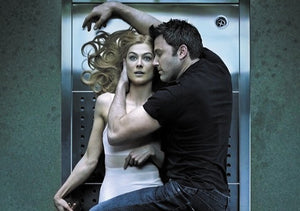 Our Favorite Screenwriters: Gillian Flynn
Gillian Flynn has quietly become one of the top screenwriters working today. Formerly a television critic for Entertainment Weekly, Flynn burst onto the scene when she adapted her own novel GONE GIRL for director David Fincher. All three of her novels have been adapted to film/TV. Flynn wrote GONE GIRL (both the novel and film), WIDOWS and wrote on the series SHARP OBJECTS (also based on her novel). She's currently filming UTOPIA, a series she created, for Amazon. And it might not have happened had Flynn not been laid off by Entertainment Weekly in 2008. At the same time, that experience was essential to her success.
Speaking to The Guardian, Flynn noted, "I could not have written a novel if I hadn't been a journalist first, because it taught me that there's no muse that's going to come down and bestow upon you the mood to write. You just have to do it." Any screenwriter would agree this skillset is vital for screenwriting as well. 
For Flynn, the divide between novels and screenwriting is thin. She's told similar stories in both mediums. In discussing her craft, Flynn noted that she struggled to connect her characters to a propulsive plot until she found inspiration in Dennis Lehane (himself a rich source of book-to-film adaptations), reading MYSTIC RIVER. Per Flynn, "I remember thinking, if I can tie it to a mystery, that will give me the discipline and the engine to push it forward." 
Perhaps not coincidentally, all of Flynn's work has a strong engine. GONE GIRL moves like a shot, and benefits from several jaw-dropping twists. It features strong female characters complicated by real flaws, something Flynn has spoken about in various interviews (a great listen is her podcast interview for the show Armchair Expert). 
Flynn also wrote the script for WIDOWS, the Steve McQueen film which came out last year. Universally acclaimed by critics (91% on RottenTomatoes), the film continues to showcase Flynn's distinctive voice.
Viola Davis' lead character is often borderline cruel to her team of female thieves. Elizabeth Debicki was frequently noted in reviews for the film as a standout for her role, which is complex and requires her to engage in a tricky relationship with a "sugar daddy" character played by Lukas Haas. Cynthia Erivo plays a working mother who has a sequence where she sprints for a bus that is as compelling and dynamic as a chase in a Marvel film. 
Like GONE GIRL, WIDOWS has several massive twists, which McQueen noted would cause literal gasps in the audience, predictably. Flynn also has a way of writing flinty, sharp-tongued characters who aren't afraid to deliver withering insults.
In WIDOWS, at one point Colin Farrell and Robert Duvall have a standoff as son and father that features shatteringly-cruel insults where they both denounce and disown each other. In GONE GIRL, the Margo Dunne character tells Nick, after he admits to an affair and defends it by referencing getting laid off, "Oh, boo-hoo, I got laid off. I guess I'll fuck a teenager." That dark sense of humor serves Flynn well, and is part of her voice as a writer. Flynn is uncompromising in how she presents her lead characters, the go-for-broke nature of her twists, and the funny/dark humor of her dialogue. 
Is Gillian Flynn one of your favorite screenwriters? Let us know in the comments below. 
---