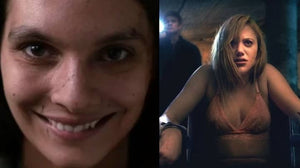 HORROR STORYTELLING PART III: THE RETURN
Horror scripts are like any other screenplay; it's of value to apply structure to the storytelling. However, I have a pet theory when it comes to structuring horror storytelling in particular.
Which is this: Above and beyond the mechanics of standard three-act feature film narrative construction, there are three acts that correspond with the level of knowledge the in-world characters have about how haunted they are, and a teaser and denouement that are typically directed more toward the audience. To wit…
Teaser. We open with a scene or sequence that acts as a "statement of intention." It's a horror movie, so we want to start things off with a scary scene. We want that scary scene to introduce the antagonist and concept. And we want the death(s) involved to draw in our protagonist and thus kick off act one. This is Bruce eating the girl in JAWS; it's Samara haunting the teens in THE RING; it's young Michael stabbing his sister in HALLOWEEN.
Act one: The characters don't know they're being haunted. This is where we put our pieces in place. The family moves into the house, the teens go up to the cabin, etc. The characters (particularly our protagonist) might notice a little something here and there, but it isn't big or scary enough to make them flee. These hints are more about foreshadowing, and giving the audience some business to build tension and remind them they're watching a horror movie.
Act two: The characters know they're being haunted, but they don't know exactly what's happening or why. This is where the characters are full-on being haunted. (And by "haunted" we can mean that literally, as from a ghost or demon, or "haunted" as in being stalked by a killer or monster, etc.) In this second act, they are in a reactive mode. They're screaming in terror, running around, getting killed, etc.
Act three: The characters know they are being haunted, and they have an idea of what to do about it, and are enacting that plan. The bodies have been found. Professor Exposition has been consulted. The characters know who is haunting them, why they are being haunted, and they have an idea as to how to make it stop.
This "act" is sometimes as long and developed as a third act in most "normal" movies. It depends on how involved the cure might be. For example, in IT FOLLOWS, NIGHTMARE ON ELM STREET, and PREDATOR, this act involves our protagonist(s) laying a set of elaborate traps and then luring in the antagonist. In THE WAILING and THE EXORCIST, the third act is a long and dangerous ritual that must be enacted. But this act might be very short. For example, in classic slasher movies, we only get this act after the Final Girl finds the bodies of her friends and somehow stops the killer.
Denouement. We bookend the teaser with a final scare. Again, this "act" is more for the audience than the characters.
---