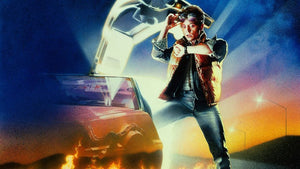 HIGH-CONCEPT VS EXECUTION-DRIVEN
The definition of "high-concept" is nebulous. But it can often be described as a logline with which you get the idea at the pitch.
For example, you have a sci-fi comedy about a guy who goes back through time and meets his mother; she's way more into him than his actual dad, so our protagonist has to find a way for his parents to fall in love so he can exist. This is a huge high-concept, and the pitch is right there in the title: BACK TO THE FUTURE.
High-concept is indestructible. Various writers can take various takes, and the concept still remains. High-concept is often the main reason why a spec script might get traction; the idea is the pitch-point.
The flipside is a project that the industry calls "execution-driven." This is a project that does not have a high-concept, but might find value due to a level of execution that attracts directors who move the needle, and name talent to the roles.
For example, PULP FICTION is kinda high concept given its time-jumping narrative. But at core it's about criminals looking for a MacGuffin; the essence of a '90s-style programmer. The same could be said about SNATCH. Again, we're talking about criminals looking for a MacGuffin; it's the essence of a programmer.
But with both of these films, they are elevated by the character, dialogue, and story work. These are "execution-driven" films. The set-up is low-concept, but the execution takes these movies to another level.
This is why some scripts are seen as good, but never find traction. There is such a thing as a script that everyone likes, but nobody finds "special" or "exciting." And at the same time there are some scripts that get endless rewrites and attention, purely because they are high-concept.
Spec scripts almost always live or die on their high-concept. If not: the ability of realizing a story to the screen is seen as no special ability in juxtaposition with the many, many talented writers already working in the industry. It takes a very special take for a script to be seen as "execution driven."
But as with any aspect of this industry, anything is possible. For example, slasher horror movies were considered to be a completely "done" sub-genre until we saw SCREAM… and NIGHTMARE ON ELM STREET PART VIII… and CABIN IN THE WOODS… and so on.
We might look at any genre or subgenre through the same lens. FLEABAG gives us a fresh take on romantic-comedy. It isn't high-concept in the same way as we find with features like 10 THINGS I HATE ABOUT YOU or HOW TO LOSE A GUY IN 10 DAYS, but there is an angle that draws the directors, name talent, and financing that gets a film made in the real world.
Of course we would all love to imagine everything we write as so strong that it's execution-driven. But execution-driven should be the extra element. As in: the project is high-concept, and oh by the way it's also execution-driven.
There is no limit to better.
---