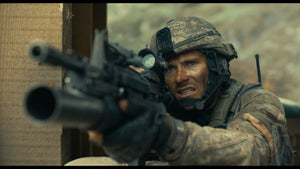 Great True Stories: THE OUTPOST
Finding great true stories is a way to add value to your screenplays. To illustrate this point, we're going to follow the winding path taken that eventually led to the 2020 film THE OUTPOST.
In 2009, 300 Taliban fighters assaulted the American combat outpost "Keating" in Afghanistan. 8 Americans were killed, and 27 wounded. Staff Sergeant Clinton Romesha and Staff Sergeant Ty Carter were awarded the Medal of Honor for their actions in the battle.
The key differentiating factor between this battle and any other was the location – this outpost was almost impossible to defend, it was in a very strategically dangerous location. Journalist Jake Tapper wrote a book about the story.
Screenwriter Paul Tamasy stumbled onto Tapper's CNN documentary about the outpost while channel surfing, according to an interview with the Journal Advocate. He was struck by the unique nature of the story, saying, "Why the hell would they put an outpost at the bottom of three mountains?"
Again – that unique differentiator was the key. If this were any other military engagement without that unique factor, maybe Tamasy shrugs it off, and the movie never gets made. Just finding a true story is not as important as finding a GREAT and UNIQUE true story.
Tamasy read the book, brought in his writing partner Eric Johnson and connected with Tapper. They initially developed the script with director Sam Raimi, before connecting with director (and West Point graduate) Rod Lurie.
In 2018, Millennium Media produced the film, shooting in Bulgaria. It was released earlier this year, hitting number one on multiple VOD platforms, and receiving critical acclaim. The story also attracted actors Orlando Bloom and Scott Eastwood, who again, were likely compelled by the true story.
Tamasy's other three prominent films as a screenwriter? THE FIGHTER (based on the true story of brothers Micky Ward and Dicky Ecklund), THE FINEST HOURS (based on a real Coast Guard mission) and PATRIOTS DAY (based on the 2013 Boston Marathon bombing).
If this were fictional – would any of this have happened? The exact same script, the exact same story, but simply made up, the invention of a screenwriter? Probably not. True stories hold a greater significance, especially when filtered through a remarkable act of courage (a common theme in much of Tamasy's work).
Have you written any screenplays based on true stories? Has it added market value to your screenplays? Let us know in the comments below.
---