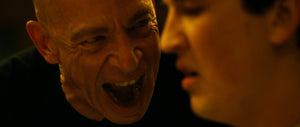 Effective Scene Work: Enough Is Never Enough
Effective scene work often is the difference between a solid and a spectacular screenplay. It's one thing to have a great concept, but in the gladiatorial death match that is professional screenwriting, a great concept alone isn't enough. That concept must also be impeccably executed.
What do we talk about, when we talk about effective scene work? Often, we've found here at ScriptArsenal, it comes down to refusing to let up. Let's take a scene example from WHIPLASH, a film that won four Oscars (and was nominated for Best Adapted Screenplay and Best Picture).
Miles Teller's student character is trying to earn a role in the jazz ensemble as a drummer. JK Simmons' teacher character kicks the previous drummer off the chair. He lets another drummer play. This drummer fails, too. Teller's character gets on the drums, and JK is unimpressed.
Time passes. We see the clock. The scene implies that a long time has passed. JK gets personal with Miles' character, saying, "No wonder mommy ran out on you. Get off the fucking kit." The cycle continues. No one can impress the teacher.
Miles' character gets another shot on the drums. He gets farther than anyone else. JK doesn't tell him, "Good job." He tells him, "Don't slow down" and "Faster!" If that wasn't enough, he also bangs a cowbell in his student's ear, to distract him. Then he throws one of the pieces of the drum set at the wall.
At this point, there's still a full minute (so about one page) left in the scene. We see there's blood on the drums from the frenetic playing. Finally, the teacher indicates for the student to stop playing, and tells him he's earned his part.
Victory, right! Most scripts would cut the scene here. WHIPLASH refuses to let up. Simmons opens the door to let in the rest of the jazz ensemble and says, "Okay, we can start now."
Take a look at your favorite scenes in your script, and push the antagonism on your protagonist one step further. It can unlock something classic.
How do you push your scenes to the brink?
---