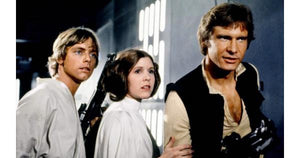 DENOUEMENT FOR A POTENTIAL FRANCHISE
Last week, we talked about the elements that make for a strong denouement. Now let's get super laser specific and discuss the kind of denouement that best helps a project shape itself toward a potential franchise.
To clarify: "franchise" is the term the industry uses for an intellectual property (including a film) that can be taken to other projects beyond itself: more films (sequels, prequels, remakes, etc.), TV series, video games, novels and graphic novels, and so on.
The current industry is strongly focused on projects that have franchise potential. This is because a movie by itself represents a massive risk for investment. But if a film finds its audience, then any other movies in the same franchise have less risk, i.e. the first movie was a hit, so there is increased likelihood that the second movie shall also be a hit.
This isn't lost on screenwriters, so we get a lot of scripts that are built around franchise potential. Which is good, but some approaches are better than others.
For example, I have read a lot of scripts that try to establish a franchise simply by ending without resolving the A-story. I suppose the writer's idea is to tease the audience with 3/4s of a movie, and if they want to get the rest they will come back for a sequel.
This is exactly like trying to sell a car with only three wheels instead of four, with the hope that the buyer will come back and purchase a second car with four wheels and a spare in the trunk so now they have two functional cars. No – selling a stunted, unfinished product is not the way to get the audience to come back for more.
We want to give the audience a full, complete, satisfying story the first time out, so much so that they can't wait for a sequel. STAR WARS is a franchise because Luke blows up the Death Star at the end of the first film.
There is of course such a thing as a film with an ending that leaves itself open for a sequel. At the end of THE EMPIRE STRIKES BACK, the heroes are alive but defeated, the story unresolved. But this plays because it's the first sequel of a planned trilogy, and the audience's interest in the franchise has been established.
We might even see an open end in a first film, but then only if audience interest is already established, for example by adapted from a well-known underlying property. At the end of FELLOWSHIP OF THE RING, Frodo hasn't thrown the Ring into Mount Doom. But that's okay… because THE LORD OF THE RINGS comes pre-loaded with a massive fan base.
Overall point being: it is good and wise to write toward building a franchise, even (or especially) with a spec script. But ironically to have the best shot at that franchise, we need the script to read as if it isn't counting on sequels to tell its story.
---