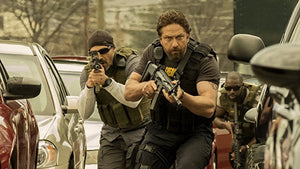 Dead Genres and How To Revive Them: The Mid-Budget Thriller
There's a truism in Hollywood that certain genres are dead. In this 4-part series of blog posts, we're going to look at these genres Hollywood wisdom says are dead, why their death is the prevalent theory, and what it may take for any writer to revive them with their own script.
Second up is the mid-budget thriller, the type of film that many filmmakers complain Hollywood has largely abandoned. STX Entertainment was founded in part on the idea of pursuing these types of films, which had fallen into a gap in the market between giant comic book movies like the Marvel films and tiny independent films at low budget levels.
Unfortunately, STX's theatrical track record in this genre reinforces the truism. They released PEPPERMINT, starring Jennifer Garner, to a modest return (on a 25M budget, the film grossed 35M domestically). MILE 22, starring Mark Wahlberg, grossed 36M domestically on a 50M budget. THE FOREIGNER, starring Jackie Chan and Pierce Brosnan, did most of its business in foreign markets (where it grossed 110M) vs. a soft domestic release (34M gross on a 35M budget).
Does this mean the truism is correct? Should Hollywood give up on these films? Not necessarily. STX also released DEN OF THIEVES, which grossed 44 million domestically. A sequel is in development currently.
The reported budget (according to Deadline, which also reported additional financial details cited in this blog post) was 30 million. That doesn't seem like that great of a gross against the budget, until you consider how the film was structured.
60% of DEN OF THIEVES' budget was covered by international pre-sales (which are favorable genre films with stars), and the use of tax credits covered an additional 10% (again, per Deadline). Another company, Diamond Films, provided gap financing. STX took little financial risk in their involvement with the film.
STX is not giving up on these films, with 21 BRIDGES, starring BLACK PANTHER star Chadwick Boseman, set to be released in September of 2019. But for the aspiring writer of the mid-budget thriller, what lessons can we take from the mixed performance of these films?
The answer boils down, as it often does, to stars and concept. DEN OF THIEVES is a cops and robbers movie about a gang trying to rob the Federal Reserve and the cops trying to stop them. It's anchored by a big, scenery-chewing performance by Gerard Butler that's a lot of fun.
21 BRIDGES is about a group of NYPD cops trying to catch cop killers, by closing all the bridges out of Manhattan, to prevent the cop killers from escaping the island. It's a cops and robbers movie.
Other hits in this niche are also cleanly defined as cops and robbers movies – specifically movies like THE TOWN and THE DEPARTED, are also in this niche. It may be a telling trend that movies which deviate from this formula in the mid-budget thriller range, into black ops (MILE 22) or vigilante-tales (the recent DEATH WISH remake also underperformed in this area) have not been as successful.
Write a mid-budget thriller with a strong marketing hook, possibly set in a simple cops and robbers world, and the market analysis suggests there may be a way to get that made in the "dead" genre of mid-budget thrillers.
Do you think the mid-budget thriller is dead?
---
2 comments