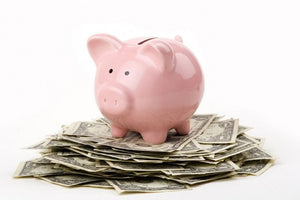 Budgeting For The Aspiring Screenwriter
A dirty secret of trying to succeed as a screenwriter is that it often requires spending some money. This is a topic of fierce debate on the internet. Some would argue a great script will speak for itself, and no screenwriter should spend one dollar trying to get their work out there.
Some people might disagree with that. They include:
Dennis Curlett, whose rom-com JUST ONE KISS sold to Netflix in June of 2019 after being discovered through The Tracking Board feature competition (early entry: $65).
Mickey Fisher, whose sci-fi pilot EXTANT was discovered through the TrackingB.com pilot contest, and went straight to series with Halle Berry starring and Steven Spielberg producing (entry fee: $119).
Many, many writers, including Ehren Kruger (THE RING) and Susannah Grant (ERIN BROCKOVICH) whose careers were launched by the Nicholl Fellowship (early entry fee: $48).
Melanie Toast, whose script SHUT IN has Jason Bateman attached to direct for New Line, after being discovered on the Black List website (evaluations cost $75, each, and hosting on the site costs $30, per script, per month).
Chris Thomas Devlin, whose script THE WRETCHED EMILY DERRINGER was a finalist at the Austin Film Festival, and who is now the writer on a TEXAS CHAINSAW MASSACRE reboot (early entry fee: $45).
Now, to write material strong enough to win or place highly in these contests (or grade highly on the Black List website, whose readers are notoriously tough), a writer can simply pass their script around to other writers and revise, but it may also be helpful to get a completely impartial opinion from a reader.
That means paying for script coverage. ScriptArsenal offers a "Comments Only" screenplay coverage at $119. With these costs compiled, let's do a little math.
Entering all the script contests, at the early bird prices, combined, is $277. To be visible on the Black List site requires hosting, and typically two or three evaluations. That's $255. Is your script going to be perfect the first time you pay for notes? Probably not. So, let's assume you pay for several rounds of notes, even at the lowest tier of depth, that's $357.
These fees combine add up to $889. But this is the most bang for your buck a screenwriter can get. These are contests/sites with a proven track record of launching writers. The danger, as a screenwriter, is in wasting money on contests or sites that lack this track record, or spending thousands on frankly, anything else. Pick your spots, and use your hard-earned money judiciously, and you can get your script out into the world to a place where it can be noticed.
How do you budget yourself as an aspiring screenwriter? What tips and tricks have you found in trying to get your material out there? Let us know in the comments below.
---
1 comment